Switch to:

EN

Português (PT)

Español (ES)
Traveling on a single-engine plane for many people can cause some fear and estrangement. However, this fear is usually due to the lack of information and even prejudice about this type of aircraft. The figures collected by entities such as the EASA, FAA, or CENIPA prove that the single-engine airplane is completely safe, provided it is used in accordance with its operational specifications and in suitable weather conditions.
In the article below we will talk about the best practices for single-engine aircraft rentals and the main characteristics of this type of aircraft. For this, we spoke with two experts in the field, the CEO of Black Aviation, Rafael Matos, and the aeronautical consultant Wendel dos Reis Araújo, who together managed more than 20,000 flight hours with an impeccable safety index on single-engine aircraft.
Tips for Single Engine Aircraft Rental
"It is important to start from the premise that it is not the type of aircraft that will determine the level of safety. Air taxi companies are duly regulated by ANAC and undergo a rigorous approval process to obtain certification. Once authorized, it will undergo several inspections in order to comply with all regulatory requirements. Therefore, a single-engine aircraft differs very little from any other, once maintenance is carried out. That is why, in terms of safety, there is no difference ", emphasizes Matos.
Bearing this in mind, it is essential to rent a single-engine plane from executive aviation companies that comply with RBAC nº 135, have the maintenance of all their aircraft up to date, and that have properly approved workshops and that comply with the requirements both the plane, as well as the engine and infrastructure.
In addition, when requesting the service, it is important to verify that the aircraft is approved for rental and ask for the following documents:
COA – Air Operator Certificate (if the company is approved)

EO – Operational Specification of the company (which aircraft are the company's)

CA – Airworthiness Certificate (if the aircraft is owned by the company)

CM – Registration Certificate (verifies that the aircraft is up to date with the certifications)

RAB – Brazilian Aeronautical Registry (aircraft history)
"A fundamental practice is always to ask for references from the company where the single-engine plane is being rented. Thus, it is possible to know if it is a suitable company and if it has a good reputation in the market. Verifying which services are offered by the tenant company, and which are necessary to negotiate before the contract is closed, to avoid additional costs charged later, is also worthwhile," points out Araújo.
Features of the single-engine airplane
This type of aircraft also has some particularities that need to be taken into account when using it as a means of transport. One of which is the operational limitation. Under normal conditions, the person using the single-engine plane rental needs to be prepared to take a little more time to reach their destination, compared to other models of business aviation, because of their speed capability. A flight on the Belo Horizonte – Angra dos Reis stretch, for example, can be performed in 1 hour and 7 minutes on a King Air C90 twin engine. In the single-engine Embraer Corisco, the same journey takes 1 hour and 35 minutes.
Weather conditions also influence the single-engine plane rental. In terms of takeoff and landing — on cloudy and rainy days this type of aircraft is not recommended.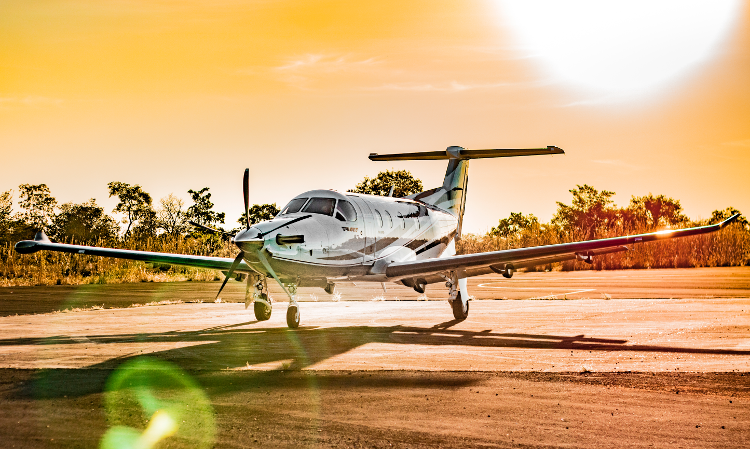 Weather conditions also influence the single-engine plane rental. In terms of takeoff and landing — on cloudy and rainy days this type of aircraft is not recommended.
And the advantages?
In addition to being a totally safe category, just like the others, the expense of a single engine is much lower than that of other aircraft, bringing an interesting cost-benefit and, thus, also reflecting on the rent value.
It is also an interesting option for those who really want to enjoy the flight. As it is a smaller plane, the passenger will be much closer to the pilot and co-pilot, following the entire route and being able to receive technical instructions and the opportunity to truly participate in the flight. Not to mention the visual benefit, since it is possible to view the front and side of the aircraft.
As a large proportion of single-engine airplanes are depressurized, passengers can take better advantage of panoramic views of the coast, lakes, or jungle, as the aircraft flies at a lower altitude than a pressurized jet or turboprop.
With the rental of single-engine aircraft it is also possible to access certain airports that other aircraft are not allowed to operate from — due to the runway, for example. For comparison, models like Corisco, Grand Caravan, or Seneca can land on a runway in Capitólio (Minas Gerais) that is only 680 meters wide. Turbo propellers, like King Air or Pilatus, are not allowed to land there under air taxi rules.
For what purposes are single-engine aircraft rentals indicated?
Single-engine plane rentals can be recommended for both sightseeing and leisure. It is a good option for charter transporting passengers and cargo to locations lacking this service by commercial airlines. Another recommended use is in cases of urgent transportation of passengers or cargo – such as emergency situations that do not require aeromedical transport, for example – for the transportation of high value-added cargo or for the transportation of coins that is not authorized in common airlines.
Due to the Covid-19 pandemic, which requires social distancing and contact with fewer people, renting a single-engine airplane rental offers a reliable transportation alternative, with convenience and comfort, a tailor-made operation, and a quick response to the need for urgent travel if and when you need it.
Examples of popular routes for single-engine aircraft:
São Paulo – Paraty de Caravan
São Paulo – Angra dos Reis by Caravan
Salvador – Morro de São Paulo by Caravan
Belo Horizonte – Capitólio by pistão
Manaus – Barcelos by Caravan or by pistão
Goiânia – São Miguel do Araguaia by Caravan or by pistão