Switch to:

EN
As a regional leader in business aviation services the Flapper Team boasts decades of experience in realizing private jet charter flights to and from Brazil. Our service offering includes private jets of different cabin class, including light jets, heavy jets and corporate airliners, with high passenger capacity. We are proudly homologated by ARGUS and Wyvern, two of the world's leading safety certification agencies. All aircraft are operated under valid air taxi (RBAC 135) or commercial aviation (RBAC 121) certifications.
Private Jets Available for Charter in Brazil
We know that every mission is different and requires the right type of jet and personalized service throughout the entire operation. That's why we offer the widest range of safety-vetted private jets in the industry, – all of that with impeccable maintenance and experienced crews.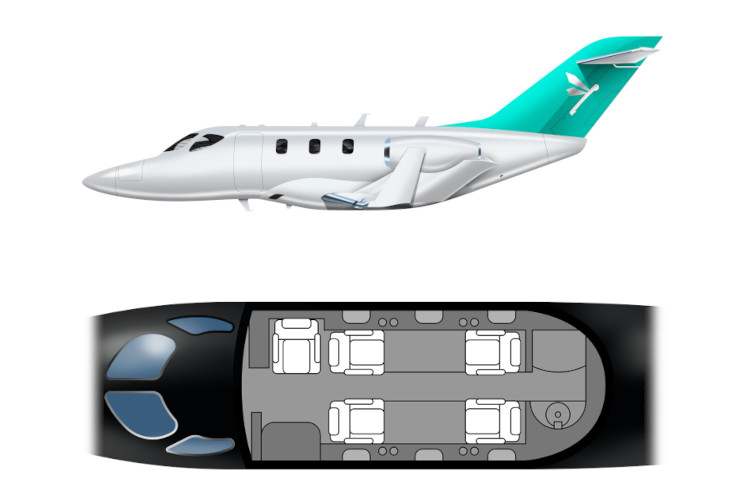 Light Jets and Entry-Level Jets (VLJ)
This type of jets is ideal for those interested in short-haul flights or those of max. 3 hours or less. Light jets possess space for 4 to 6 passengers and are typically capable of landing on short runways (1,000 m or 3280 ft).
Top 3 private jets from this category offered by Flapper: Citation CJ1, Phenom 100, HondaJet
---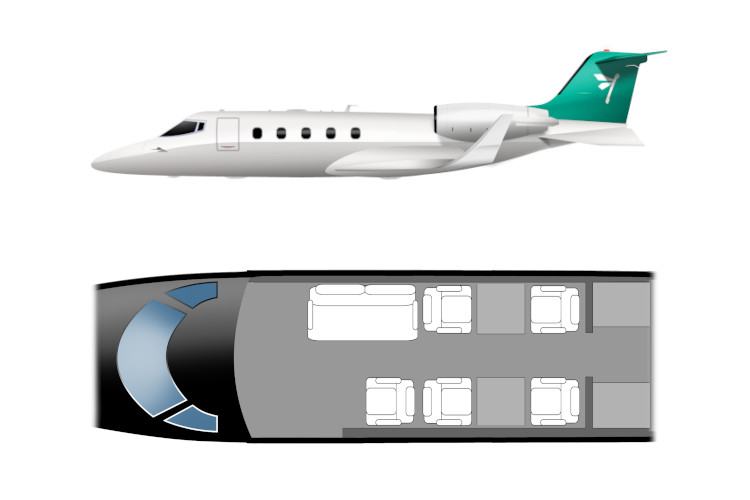 Super Light and Mid-Size Jets
Super light jets and mid-size jets can comfortably accommodate from 6 to 9 passengers and come equipped with partial galley, enclosed lavatory and entertainment centers. Business jets, such as Learjet 60, can fly from São Paulo to Paris with just two stops. Within Brazil, they can connect the vast majority of city pairs, including the route from Rio Grande do Sul (Extreme South) to Boa Vista (Extreme North).
Top 3 private jets from this category offered by Flapper: Learjet 60, Citation VII, Phenom 300
---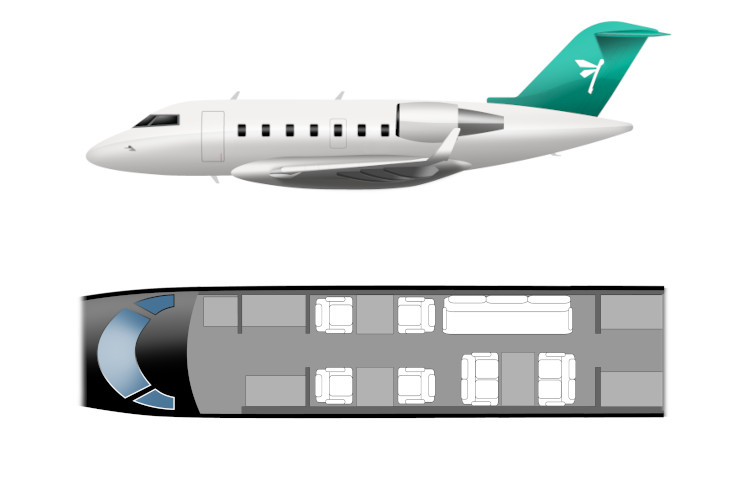 Super Mid-Size Jets and Heavy Jets
Wider cabin, longer range and more advanced avionics are the main characteristics of private jets belonging to these two categories. With capacity for up to 8-14 passengers, heavy jets can fly nonstop from São Paulo to Miami or – with just one stop-over – to Europe. The typical equipment includes a full galley, large adjustable seats and state-of-the-art entertainment centers.
Top 3 private jets from this category offered by Flapper: Legacy 600, Hawker 800XP, Challenger 604
---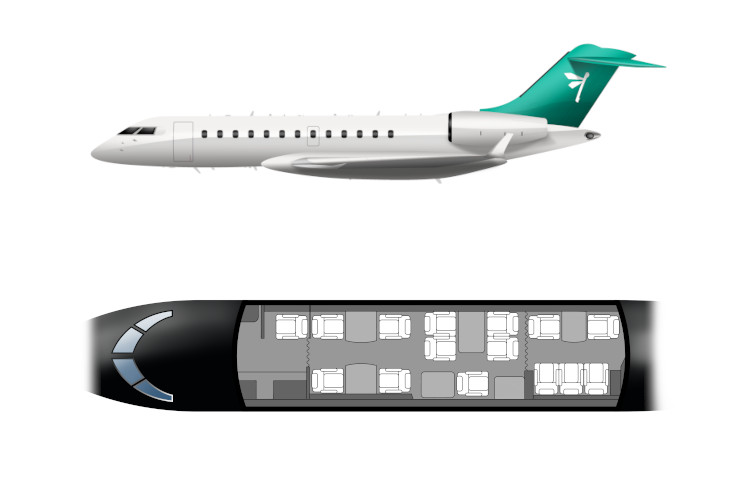 Ultra-Long Range Jets and VIP Corporate Airliners (BBJs and ACJs)
With the ability to connect any two points in the world with just one stop, the jets belonging to this category have unique characteristics, sought after by the most demanding clientele. Cabins are typically divided into three or four zones, while seats can easily be converted into beds. Many jets in this category have separate executive suites, with a queen bed, shower and dedicated office space, among others.
Top 3 private jets from this category offered by Flapper: Gulfstream GV, Global Express, Boeing BBJ
---
Commercial Jets – Airliners (Wide Body)
If you are looking for a flight for a group of 49 – 450 passengers at the lowest cost, try renting a commercial jet, such as a Boeing 737 or Airbus A350. The Flapper Team will find the most suitable aircraft for your mission and offer extras such as access to the VIP lounge or a fast track at the airport.
Top 3 private jets from this category offered by Flapper: Boeing 737, Airbus A330, Boeing 767
Why to Charter Your Private Jet with Flapper
Flapper is an award-winning company with over 20,000 happy customers in Brazil and in over 20 countries around the world. Chartering your jet with Flapper is more than just about buying a service. You experience business aviation from a new perspective.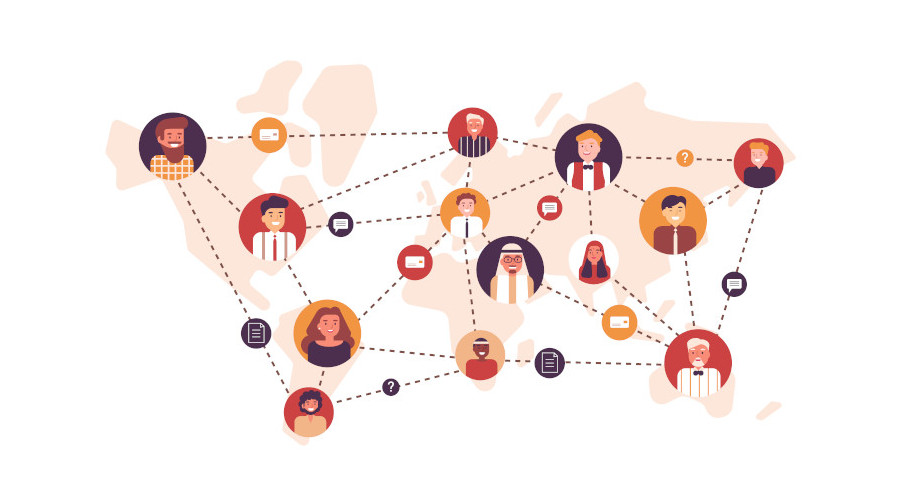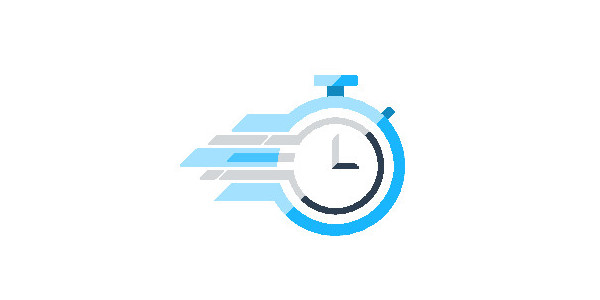 Rent Your Private Jet in Brazil Now
Just click on the link below to see an estimate of the cost of renting your private jet. Go to our homepage to quote any route in Brazil and abroad.
Get in Touch
Do you prefer to get in touch by Email or Whatsapp to customize your route? Just click on the below button: