Switch to:

EN

Português (PT)

Español (ES)
As of today, Flapper is proud to be the only company running weekly flights on the route São Paulo – Angra dos Reis. The service is based on the fleet of certified turbo-prop Caravan Grand aircraft and it encompasses all the benefits of private aviation, i.e. the personalized approach to each passenger, access to VIP lounge, and complimentary snacks and drinks.
Flight Schedule and Pricing
The flights take off every Friday and Sunday, with additional service on holidays and during high-season. The price on the high-demand route varies between R$900 – R$ 2200 per person (around US$ 440), while the price tag for the empty leg is R$300 per person (ca US$ 80), one-way. The passenger needs to purchase their return flight separately. The generic schedule looks as follows (last-updated: April 17th 2013):
| | | | | |
| --- | --- | --- | --- | --- |
| Fridays: | | | | |
| Campo de Marte [SBMT] | Angra dos Reis [SDAG] | 14:30 | 15:30 | R$1100 – 2200 |
| Angra dos Reis [SDAG] | Campo de Marte [SBMT] | 16:30 | 17:30 | R$900 |
| Sundays: | | | | |
| Campo de Marte [SBMT] | Angra dos Reis [SDAG] | 14:30 | 15:30 | R$900 |
| Campo de Marte [SBMT] | Angra dos Reis [SDAG] | 16:30 | 17:30 | R$1100 – 2200 |
Accordingly, if you are in São Paulo, you'd want to opt for a weekend flight, which takes off on Friday, with a return on Sunday afternoon. However, you can save almost R$1100 if decide to spend your week-days in Angra dos Reis instead. Just select the affordable R$300 flight on Sunday and take Flapper "empty leg" the following Friday on the way back to Campo de Marte Airport in São Paulo.
Below, you can access our booking system and confirm the current schedule, pricing, and aircraft used.
The Flapper Service
We are proud to be Brazil's first on-demand executive aviation company. Service excellence makes part of our ethos. All customers in São Paulo are accompanied by a City Manager who ensures that their needs and preferences are met.
Before the flight: reservation
To reserve your flight, choose one of the following methods:
Flapper Mobile App. Flapper's award-winning mobile app constitutes the easiest way to book and modify your flight. Using the app you can add your passenger details and access your reservation on the go.
Flapper Website. Access our website's reservation system for the fastest booking option.
Email & Phone. Get in touch to reserve your spot and complete your payment with a deposit or credit card charge request.
Travel agency. We work with more than 50 travel agencies and offer a possibility to reserve the flight through Argo and Reserva Fácil booking tools.
A great advantage of flying with Flapper is the ease of paying for your flight. You can pay online with your credit card and split your payment in 3x. We currently accept all popular credit card brands, including Visa, Mastercard, AMEX, Diners, Elo, and Alelo. Advance bank deposits and Boleto payments are also allowed.
It might take up to 12h for our system to approve your payment and send your reservation by email. Please note that all clients are subject to background checks to guarantee maximum security to all the passengers. If you haven't received your reservation within the due time, please check your SPAM folder. The reservation additionally contains the location of the lounge in São Paulo and Angra dos Reis Airport, as well as aircraft details.
You can take one large bag of 20 kg (44 pounds), which will be stored in the luggage compartment of the airplane. One small bag per passenger is allowed on board. If you need to carry a larger baggage, please consult with us the dimensions, as often time we can accommodate larger packages, too!
Before the flight: Airport and Lounge experience
The flights take off from São Paulo's only dedicated executive airport, Campo de Marte (SBMT). Just access the airport from Avenida Olavo Fontoura and direct yourself to the hangar of TAG, our partner for São Paulo – Angra dos Reis service.
All passengers of São Paulo – Angra dos Reis service enjoy access to the lounge located at Helimarte hangar (please double-check the details on your reservation as we might sometimes swap the lounge for the other venue).
At the lounge you will be welcomed by our team, and offered complimentary snacks, coffee, and soda. Subject to promotions available at a given time, we would also serve craft beer or champagne.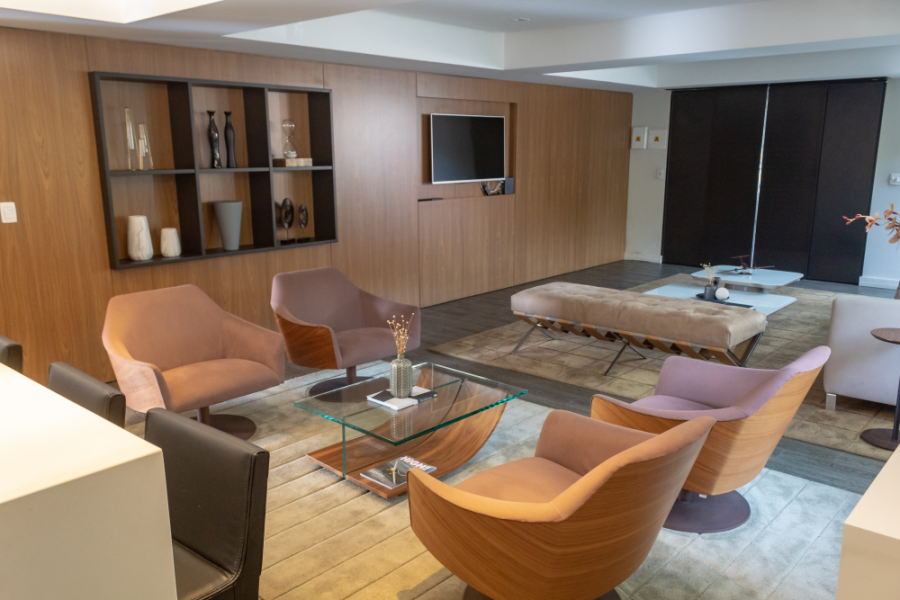 The lounge is very spacious and accommodates easily up to 20 people. My favorite part of the lounge experience is the proximity to the hangar, what allows for a true private aviation experience.
Ten minutes before the departure, the passengers are called for a take-off. After a short passage through the hangar, you'll be boarding the Caravan Grand aircraft taxied in front of the venue.
As of today, Flapper reservation doesn't contain seat numbers. If you wish to be seated in a given place please inform the team beforehand. Please note that we require a valid ID from the all the clients, according to ANAC's current regulations.
During the flight: In the Air
Before taking off you will be given short security instructions by the pilots. The flight takes about 50-60 minutes and guarantees unique panoramic views of São Paulo and the Litoral Norte coast of São Paulo State. The aircraft, Cessna Caravan Grand, is great for such low level scenic flights and you should definitely make sure you charge your phone before taking off to take some unique pictures of the coast.
Complimentary soda and snacks will be offered to all passengers during the flight. The aircraft is equipped in air conditioning and leather interiors.
After the flight: in Angra dos Reis
Angra dos Reis Airport is a regional airport currently accepting exclusively small-to mid-size aircraft and hence is very easy to navigate. Upon desembarkment you will be directed to the hall, where you can wait for your transport.
The following transfer services are available at Angra dos Reis Airport:
VIP Transport (Le Concierge)
Van Transport (Angra Way)
Local Airport Taxi
Uber
Hotel transport, if booked previously
During high season, we also offer access to the small lounge at the airport. You can ask for the availability before the flight if you need to arrive earlier or have a large group coming back.
About Grand Caravan
Grand Caravan 208B aircraft incorporates all the best features of previous Cessnas. With its unprecedented luggage space and the ability to land anywhere, your next vacations in Angra dos Reis are just a takeoff away.
The Grand Caravan aircraft used by Flapper is operated by TWO Flex Aviation, the largest operator of Caravan airplanes in South America. The tail numbers of airplanes used by Flapper are PR-WOT, PT-WZN, PT-MEY and PT-MEM. These particular aircraft possess an additional certification for scheduled operations, in addition to air taxi homologation, under Part 135.
The 208B features a simple cabin design with 9 passengers seats: 3 double rows and 3 single window row. The safety record of Caravan Grand is remarkable and comparable with Boeing 737. It is widely considered one of the Top 3 safest single-engine turbo-props, according to both Brazilian CENIPA and the US-based NTSB.
About Flapper
Flapper is Brazil's first boutique private airline and a regional leader for charter flights. Our partner fleet counts 212 aircraft in Brazil and more than 4000 elsewhere. We are known for our passion for excellence and technology innovation. It's a pleasure to serve you.