Switch to:

EN

Português (PT)

Español (ES)
The approval marks the first time Flapper has performed the face-to-face audit of a charter broker meeting all the necessary requirements. Flapper is the first company based in South America to earn ARGUS® Certified Broker certification.
Flapper is now an ARGUS® certified broker. It is the first time that a charter company in the region has won the prestigioussafety system. The ARGUS seal demonstra credibility, appropriate organizational processes and flapper's financial strength when conducting its business.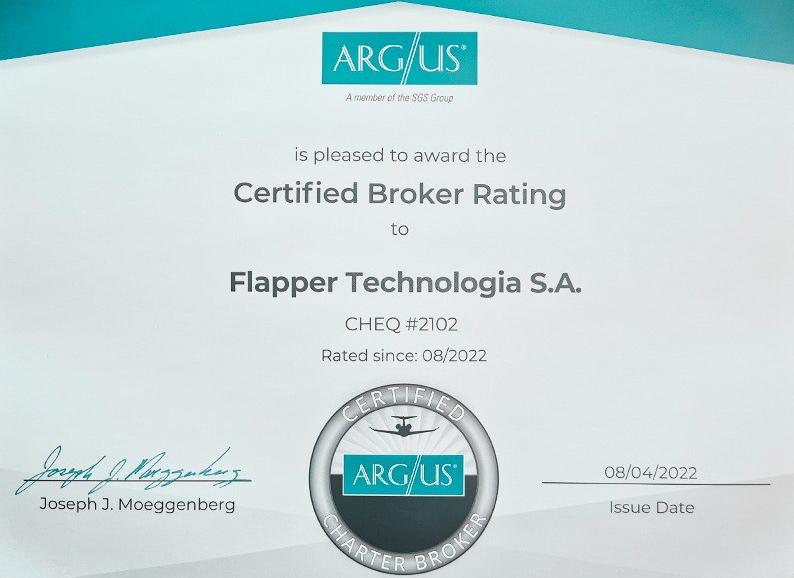 ARGUS' Charter Brokers Program provides end consumers and aircraft operators with reliable data, making it the rightto charter an aircraft through a secure broker. Being an ARGUS certified broker proves that the company adhers to industry best practices and is committed to security-oriented charter operations.
ARGUS is widely considered to be one of the most prestigious audit organizations for registered charter brokers worldwide. Ed Wandall, vice president of ARGUS, said: "Flapper not only has an impressive technology platform, but highly skilled and experienced people in its organization. They perform a high level of due diligence on all their flights and have valuable relationships with civil aviation services in South America. "
Paul Malicki, FLAPPER CEO, said: "From training our team's members, judicious selection of  partner operators, to careful planning of each flight, we are committed to industry best practices. As we expand internationally, we'd liketo benefit from getting more from ARGUS data access, impressive know-how and experienced staff. "
Last year, Flapper joined the API of the Brazilian Civil Aviation Authority (ANAC), allowing the daily verification of all aircraft registered in Part 135 in Brazil. The company points out that three other civil aviation agencies in the region have online tail number verification systems, including Argentina, Chile and Colombia. His next step would be to integrate with similar APIs to ensure the full compliance of Part 135 of the aircraft inventory in their systems. Flapper is an active member of the Air Charter Association, NBAA and ABAG.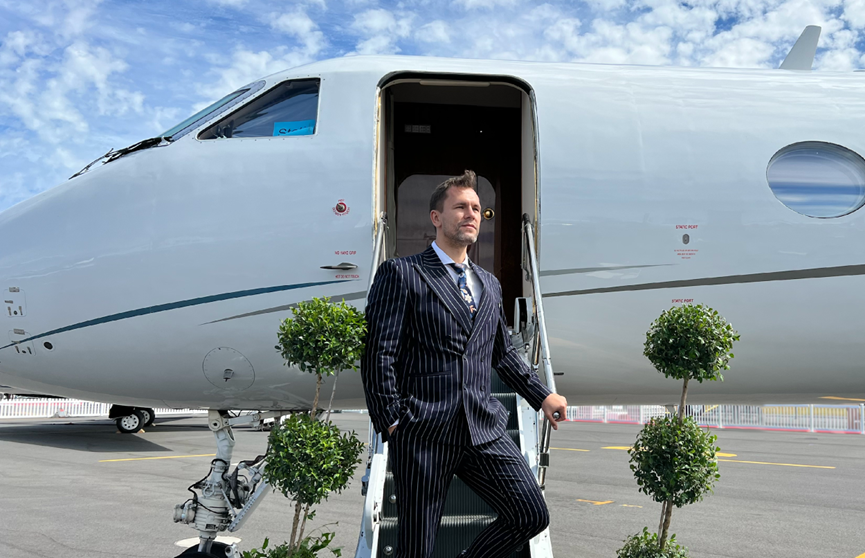 There are currently 14 ARGUS certified brokers worldwide. Learn more about ARGUS registered brokers here: https://www.argus.aero/charter-brokers/
About Flapper
With over 50 years of combined experience, the Flapper team is uniquely positioned to provide sophisticated, safe and reliable air chartering services. With its business in Belo Horizonte, Brazil and local offices in key cities in Latin America, we have a network of trusted employeesthroughout the region. With Flapper, you get the right help without delay. We have impeccable safety records in Brazil and abroad.  To learn more about Flapper, visit https://www.flyflapper.com/.  
About ARGUS International
ARGUS International (ARGUS), a member of the SGS Group, is a leader in Data Services, Software, Audits and Aviation Certification.  ARGUS Market Intelligence is the leading Aviation Forecasting service in the United States and has emerged as a leader among d-serviceproviders and market intelligence.   ARGUS PROS is one of the first accredited audit organizations in the United States and involved in the development of the IOSA Audit Program.  It is the leading provider of local security audits across the country.  ARGUS PRISM is a world leader in security management systems and a pioneer in FAA Accreditation Consulting for UAS service providers.  ARGUS was founded in 1995 and headquartered in Colorado.  To learn more about ARGUS International, visit www.ARGUS.aero.